Greetings and Salutations! It probably comes as no surprise that my two favorite modes of procrastination are needlepoint and Pinterest.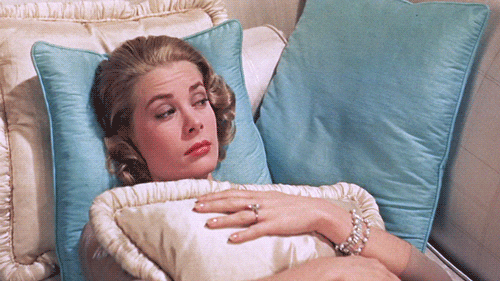 I often turn to Pinterest for inspiration when designing needlepoint canvases. The secret to Pinterest, much like Instagram, is following accounts that are aesthetically pleasing and inspiring. Below are some of my favorite Pinterest accounts, click the name at the top to be redirected to each pinner's Pinterest (say that five times fast).
Sarah is my favorite it girl to follow on Instagram. As a style writer for Town and Country she knows the latest and greatest and has impeccable taste. Her aesthetic is trendy elegance and her Pinterest reflects it. I adore all of her Pinterest boards but my favorite are her "muse" boards that feature icons like Talitha Getty, Jean Shrimpton, and LouLou.
I was introduced to Masha when she started following Lycette on Instagram. In fact, I think she was one of my first 100 followers! Since then I have stumbled into her Pinterest world and let me tell you, it is beautiful! Masha pins stylish art, classic design, and timeless icons. Beware, the first time I visited her profile I only dug myself out of the Pinterest rabbit hole hours later…
Ah, Stuffy Muffy! Where to begin? The brains behind Stuffy Muffy is fellow Florida gal, Emily. Emily is chic, well-educated, and has a great sense of humor. If you haven't yet checked out her blog, please do so. Every post is impeccable and well researched, Stuffy Muffy is far more than pretty pictures. Unsurprisingly, Emily's Pinterest is of the same caliber as her blog.
If you do not know who The Glam Pad is than I suggest you call off work for the next week and dive into Andrea's beautifully curated world. Andrea was the first blogger to feature Lycette. Since then, I have had the pleasure of becoming friends with Andrea. She is more than a mentor to me, I think of her as an older sister. Andrea uses her blog as a platform to highlight emerging talent in the design world. Case in point, she featured lifestyle brand, India Amory, last April well before the company became the talk of the town. Talent scout alert!
If I could choose an interior designer to decorate my grown-up home it would be Jane Ellsworth. Jane is the kind of woman I aspire to be, poised, elegant, and refined. Her Pinterest reflects her exquisite taste. It's worth a look, or two, or three…
Flashback to the summer of 2015 when I was in the throws of building Lycette, I had reached out to bloggers I admired for advice on how to build a brand and business. Lindsay was the only blogger to write back. Not only did Lindsay write back, but she composed an extremely helpful email full of content that clearly took time to organize. Lindsay is more than just kind, she has a classic and fun aesthetic. Her blog, The Pursuit of Style, includes a personal narrative that is engaging and charming, but the creme de la creme is her Pinterest! I highly recommend checking it out for a plethora of visual inspiration.
What do you know? Another Florida gal! I have long been a fan of Nan's blog, Simply Elegant. Nan has a knack for featuring products and brands before they take off. In addition, her curated selection is the kind that would appeal to both a twenty-something and your grandma. Quite a feat. Nan's Pinterest is no less amazing. She features the chicest of the chic. You should also indulge in her aesthetically appealing Instagram. Basically, you should follow all of Nan's social media!
Elegance and whimsy are hard to combine; however, Rebecca Gardner does so with aplomb. Her Pinterest is filled with elegant interiors, gorgeous tablescapes, and luxurious and whimsical items from her Christmas pop-up shop at the Saint Regis, Sugarplum Pop-Up.
You know the girl in school who was cool yet still chic with confidence to spare? That is Willa Heart. An artist who updates classic elements of interior design, like Staffordshire dogs, with a fun twist. Check out her Pinterest for bold color, cheeky fashion, and high doses of femininity.
What? Who? ME? Aren't self-promoters shameless? But really, I would be flattered if y'all would follow me on Pinterest! I truly enjoy finding the prettiest of the pretty, and love sharing it on my Pinterest account.
Who do YOU follow? Please comment below! I love learning about new accounts…
Happy Pinning and, as always…